Advertising



Siyan Trans Express is one of the dynamic company specialized in logistics services (transit, transport, handling) in the region, and Djibouti.
Siyan ensure that shipments are delivered quickly and safely to the door at destination using its multi-modal transportation channels.
Siyan also provides expert knowledge of the Export/import business for all types of goods including vehicles and food products.
Siyan always pays special attention to the customer's specific needs, ensuring its business advantage and competitiveness in the industry.

The changing business environments required up-to-date global information.

We believe that to maintain a strong business relationship, there must full understand among the business partners through adequate dialogue and effective communication.

This includes understanding of both the local business culture and the market

Our aim is to always satisfy our customers.

As information technology expands, we take advantage of the latest technology.
Depending on your specific needs, Siyan uses its IT knowledge to ensure that cargo is delivered safely and in time to the destination in the most efficient possible way.
Siyan is developing a Tracking system enabling you to trace your shipment whenever and wherever you are.
Our Services
STAFF & SKILL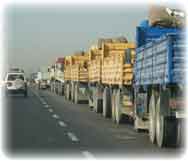 Regardless of the volume or type of cargo, Siyan's highly trained and experienced professionals provide service to all corners of the horn for AID cargo.
The company is headed by a highly qualified, Mrs Kadidja. With an MBA Diploma in Logistics Management and years of experience in food aid logistics from / to Ethiopia, she has acquired an excellent feed back of the customers. Her curriculum vita (C.V) is an evidence of her experience.
Location
Siyan is headquartered in downtown Djibouti where government offices, banks, hotels and business centers are within a walking distance.
Contact
Rue Verdon,
Angle Boulevard Bonhour
Tel : + 253 21 35 76 46
Fax : + 253 21 35 76 52
BP : 4501 Djibouti